Chicago in winter gets a bad rap. With frigid wind and freezing temps, locals frequently wonder why they live in a place where it hurts to breathe.
Honestly? I think they doth protest too much.
As a Chicago area resident since 2001, thirteen of those years in the Windy City itself, I can verify that the winter season in northern Illinois can be a bit testy. We'll go stretches of days, and sometimes weeks, without sight of the sun.
We'll get a foot of snow in a day, and then when we think winter's gone, she'll come back for one last hurrah. That wind can be brutal, stinging your face like an acupuncturist gone haywire.
And yet…
Chicago winters are a magical time of the year. The city unfurls all its finery, with decorated storefronts, streets draped with thousands and millions of lights, ice skating and festivals and a real, live holiday evergreen tree culled from a local's land and towering over Michigan Avenue.
From an authentic German market to an indoor winter wonderland, to free days at the city's world class museums, Chicago's a cold-weather destination that will warm your heart.
Bundle up and see why you'll want to explore Chicago in winter.
Table of Contents
There may be affiliate links in this post, which means we may get a small commission. It's at no extra cost to you and helps keep TLT free. Everybody wins!
Tips for visiting Chicago in Winter
The winter months may be magical in Chicago, but that doesn't mean you can simply show up like you can during the summer. With an average temperature of 26.4 degrees and the dreaded wind chill, visiting Chicago in winter requires a little more preparation, and lots and lots of layers.
Here are some top tips for visiting Chicago in winter.
Layers, layers, layers. And more layers. Did I mention layers? Cold weather is easy to handle, as long as you dress for it, and if you're touring Chicago in winter, layers are key.
Cover everything. Wear a scarf, a hat, and gloves.
Comfy boots that you don't mind getting dirty. Snow and ice means salt, and salt does a number on shoes. Skip suede; forget leather.
Pick footwear that you can easily clean or you don't care about getting dirty.
Shoes with tread. Snow and ice mean slickery sidewalks and streets. They do a good job of keeping both clear, especially downtown, but you don't want to take a chance by wearing those oh-so-cute shoes that have no tread.
If you're going somewhere fancy, either valet or change shoes when you get to your destination.
Wear a mask. Not only will it keep you from getting the cold (or something worse) from that person next to you in line for gluhwein, masks also warm your face.
Use the Pedway. Downtown Chicago has this amazing underground tunnel system called the Pedway. It connects several businesses, including Macy's, the Thompson Center, multiple CTA and Metra stations, and the Chicago Cultural Center.
In the winter, the Chicago Pedway becomes its own destination, including shops and restaurants.
Know where you're going. Nobody wants to pull up Google maps in the middle of a January gale, because that's exactly when your phone will freeze while you're standing there freezing. Know your route ahead of time.
Be in the know. Read Living Landmarks of Chicago before you go and you'll have the inside scoop on all those "cool" buildings.
Want to make Chicago your home base for some Midwestern adventures? Check out these road trips from Chicago.
Things to do in Chicago in Winter
Ready to get excited about all the fun you can have in Chicago in winter? Let's explore a few of our favorite things!
Outdoor Chicago Winter Activities
Go Ice Skating in downtown Chicago
Ice skating in the heart of a bustling city is a quintessential winter activity and some of the best ice skating rinks are in downtown Chicago.
The most popular is the McCormick Tribune Ice Rink. In Millennium Park, right on Michigan Avenue, you'll be skating next to Cloud Gate and steps away from the Art Institute of Chicago with Chicago's Cultural Mile as your backdrop.
Skating is free and you can rent skates. Reserve your skate rentals online. There are lockers if you want a place to store your things and any purchases you've made at of the shopping malls in downtown Chicago.
For an alpine twist on your Chicago ice skating, head to Maggie Daley Park. Their skating ribbon is twice as long as a regular rink, but if you need a break, there are places to exit in the middle so you can get a cup of hot chocolate.
The Chicago Park District also has ice skating rinks around the city's neighborhoods.
Ride the Centennial Wheel at Navy Pier
A Ferris Wheel? In winter? Have I gone mad?
Not when it's the Centennial Wheel, one of the many attractions at Navy Pier. You'll get an incredible view from two-hundred feet in the air over Lake Michigan in these climate-controlled cars.
You'll want to bundle up in case you have to wait in line, but once inside, you'll be nice and toasty.
Get tickets to ride the Centennial Wheel.
Watch the Chicago Holiday Tree Lighting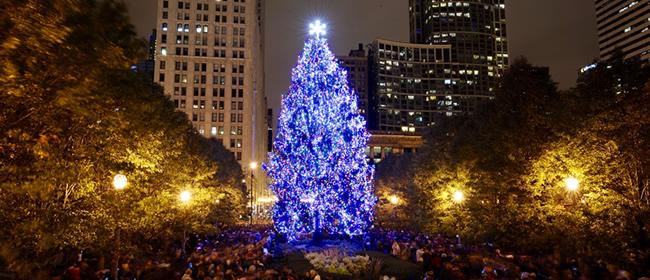 The lighting of the official holiday tree of Chicago heralds the beginning of the season.
It takes place the Friday evening before Thanksgiving in Millennium Park and, like all holiday events in the park, is free to attend.
The evergreen is a real tree that's been selected from entries submitted by residents within 100 miles of the Chicago Loop and it must be at least 55 feet tall.
Celebrate the Magnificent Mile Lights Festival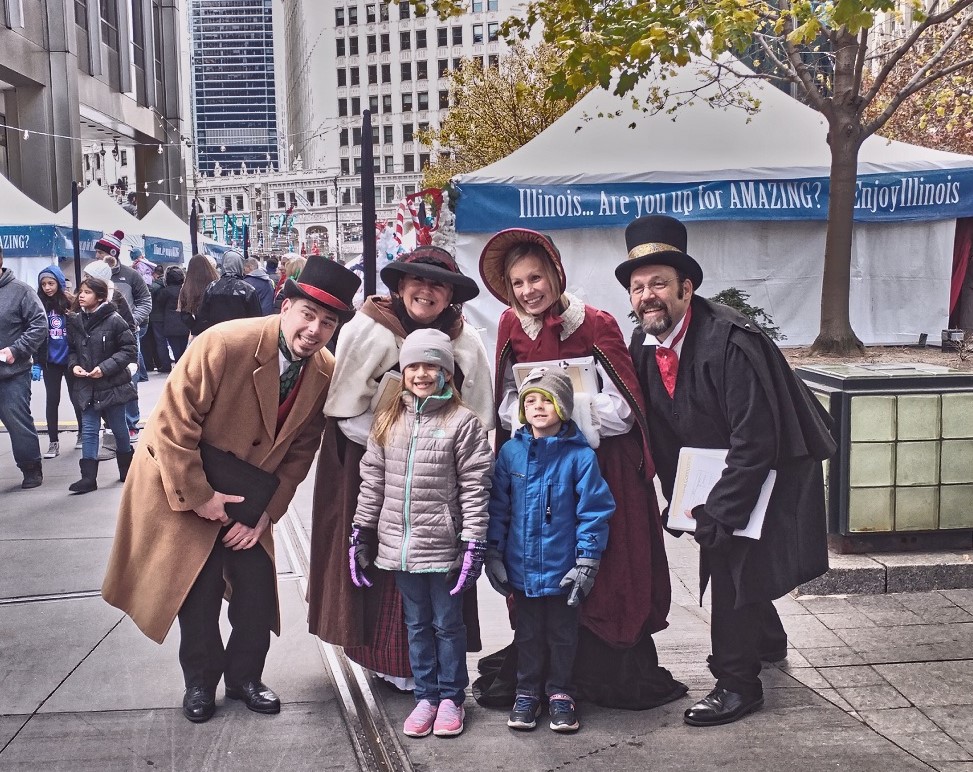 The Magnificent Mile Lights Festival takes place the weekend before Thanksgiving and features live concerts and special offers at Michigan Avenue shops. It's definitely one of the more popular ways to enjoy Christmas in Chicago.
Pioneer Court is the epicenter of all the fun, with family-friendly and themed activities, including a holiday market.
Find your inner German at Christkindlmarket Chicago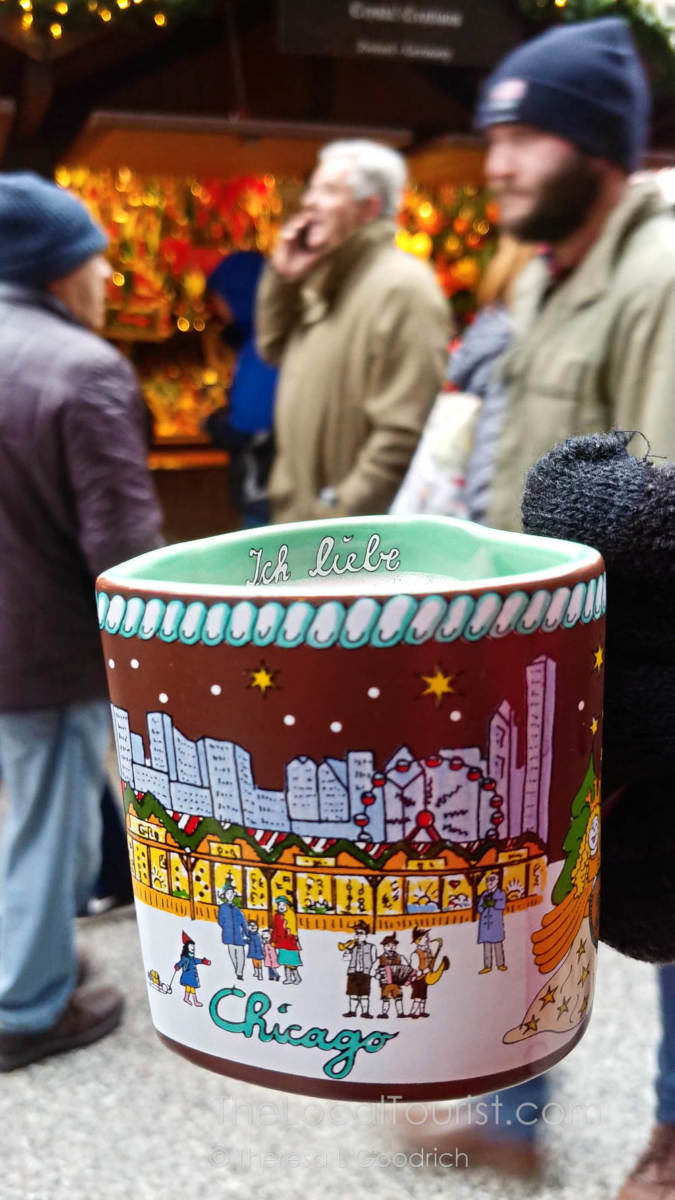 Prost! Christkindlmarket Chicago is a long-standing winter tradition. Every November, Daley Plaza turns into an authentic German market, complete with pretzels, bratwurst, cuckoo clocks, gluhwein, and the Christkindl herself.
This market is one of the things that makes Chicago one of the best Christmas towns in the USA.
TLTip: The Christkind is an angel that led parades during the holiday season. Traditionally robed in gold and white, she would distribute gifts to children like Santa Claus, even delivering the gifts on December 24 while the kids are still sleeping.
Commune with Nature at Chicago Botanic Garden
There's nothing like the hush of a snow-covered garden, especially when it's Chicago Botanic Garden. With dwarf conifers and the Malott Japanese Garden, this Glencoe destination proves there's beauty year round.
When you get a bit chilled, head inside and tour the greenhouses. Orchids and banana plants will have you feeling downright tropical.
Light up at Lincoln Park lights
Speaking of lights, ZooLights Chicago at Lincoln Park Zoo is another of the city's favorite holiday traditions. The zoo is lit up with over two million lights, and strands drape every tree in the park.
Stroll through the exhibit houses and marvel at giraffes, penguins, gorillas, lions, and any of the other myriad animals that call the zoo home.
Cheer on the Chicago Bears
Sports fans can head to Soldier Field and cheer – or boo – the Chicago Bears. This outdoor stadium is located in the South Loop near the Museum Campus.
One of the most popular things to do during Chicago winters is to tailgate before the game. Parking lots open up a few hours before the game, and you can even hire Tailgater Concierge to set up your pre-game celebration.
Indoor Winter in Chicago Activities
Not all the fun is outside. Check out these great Chicago indoor attractions so you can escape that winter weather.
See Chicago from Above
Get a bird's eye view of Chicago at one of two observatories.
360 Chicago is perched 94 stories about the Windy City in the building formerly known as Hancock. Not only are there commanding views of Lake Michigan and Chicago's towering skyscrapers, including Willis Tower, you can also look down, down, down when you ride Tilt, a glass wall that tilts away from the building. Get tickets to 360 Chicago.
Skydeck Chicago is located across downtown in Willis Tower. This 103rd-floor observation deck has its own daredevil fun: The Ledge. These glass-paneled boxes give you a clear view all the way to the street. Get tickets to Skydeck Chicago.
Get festive at Navy Pier Light up the Lake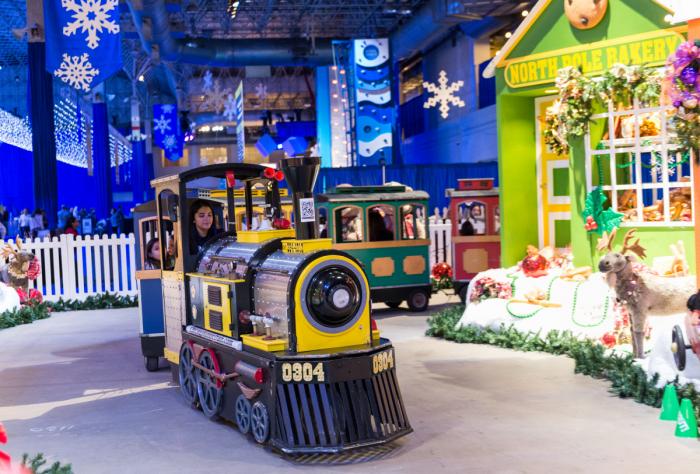 Nearly 500 trees decorated with 25,000 ornaments fill Navy Pier's Festival Hall at this Chicago winter event.
Entirely inside, the festival offers several activities and the hall is filled with Christmas decorations like candy canes, Christmas trees, and lights galore. There's even indoor ice skating, so you can glide with the greatest of ease while staying nice and cozy.
There are also kiddie train rides, a gift market, Merry Main Street presented by Brach's, and a holiday beer garden.
Visit Chicago's World Class Museums
Winter is an ideal time to visit Chicago's world-class museums. Not only do they offer an escape from the chilly weather, they also entertain and educate. Illinois residents are in luck because winter is the time for many Chicago museum free days.
These free admission days vary by museum and usually begin in January. There's a reason these are some of Chicago's most popular tourist attractions.
Here's a quick run-down on what I call the Big Five Chicago Museums:
Adler Planetarium
Adler Planetarium museum is the oldest planetarium in the U.S. and features three full-size theaters and several interactive exhibits. It also hosts an extensive collection of historical artifacts that reach back to medieval Europe and the Middle East.
Art Institute of Chicago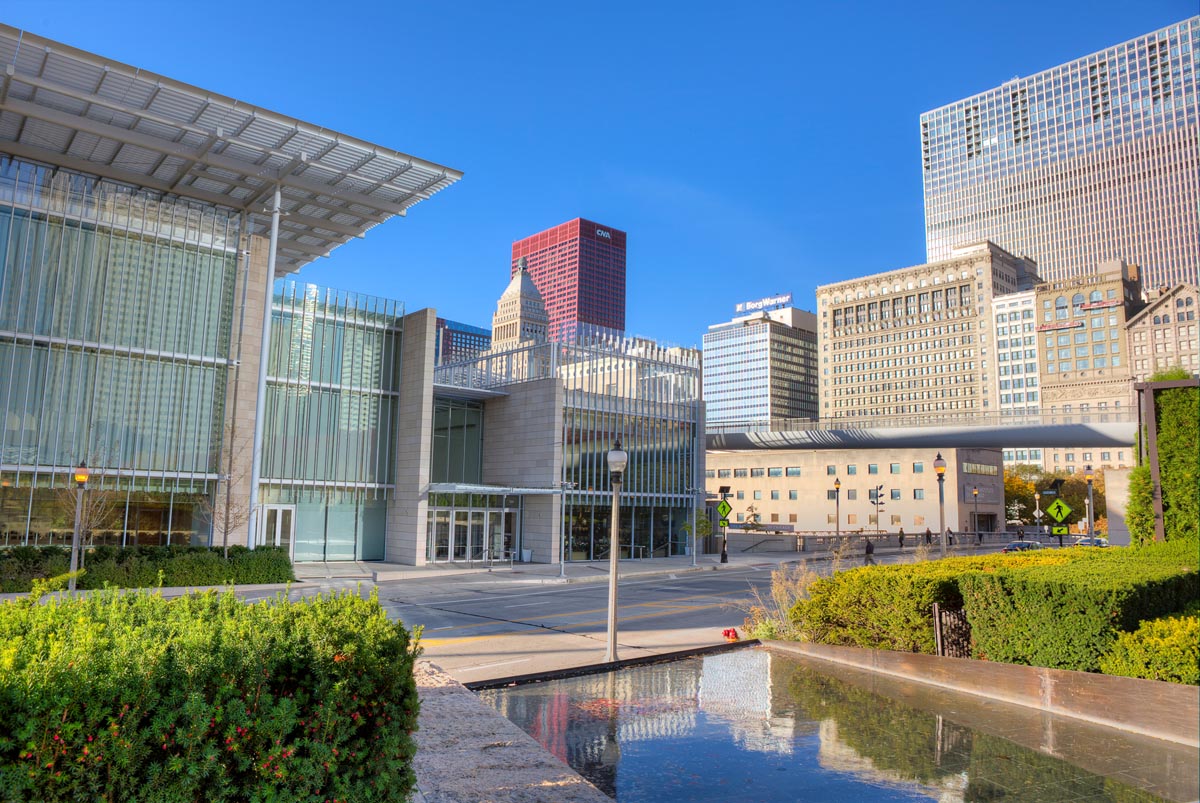 The famed Art Institute of Chicago houses over a quarter of a million works of art that represent more than 5,000 years of human expression.
There are galleries devoted to art from countries all over the world as well as to different mediums.
Field Museum of Natural History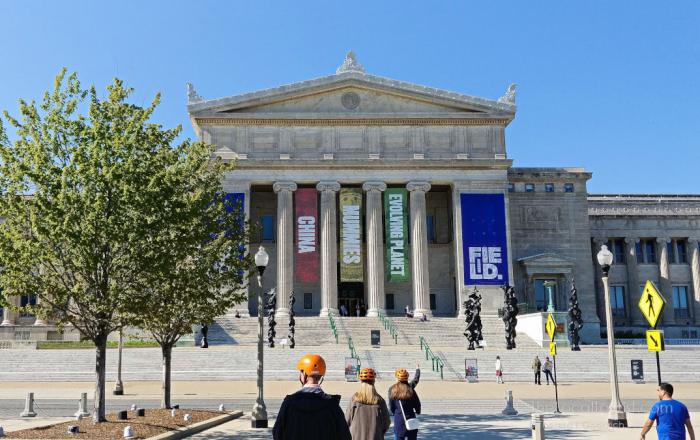 The Chicago Field Museum features millions of specimens that showcase art, archaeology, science, and history.
Some of the most impressive exhibits are the Grainger Hall of Gems and the largest T. rex skeleton ever excavated.
Museum of Science and Industry
The Museum of Science and Industry should make anyone's short list of things to do in Chicago. With over 35,000 artifacts over 14 acres, the museum is a destination worth visiting again and again.
During the holidays, the museum is particularly festive. Each year since 1942, the Museum of Science and Industry celebrates the holidays with Christmas Around The World and the Holidays of Light.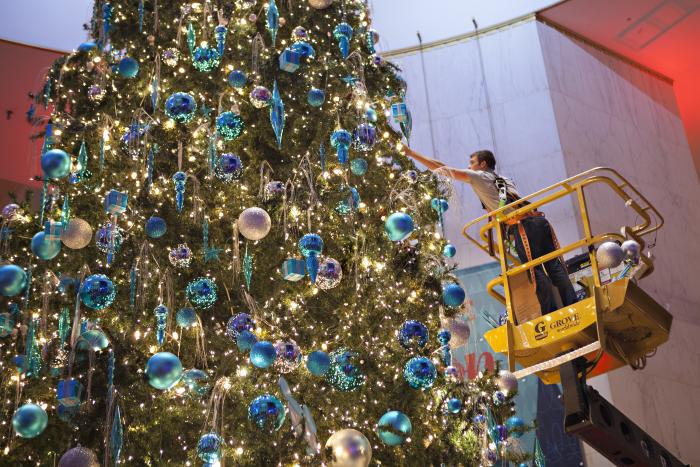 Over fifty trees represent Chicago's diverse ethnic communities, decorated by volunteers who want to share their cultural traditions.
Shedd Aquarium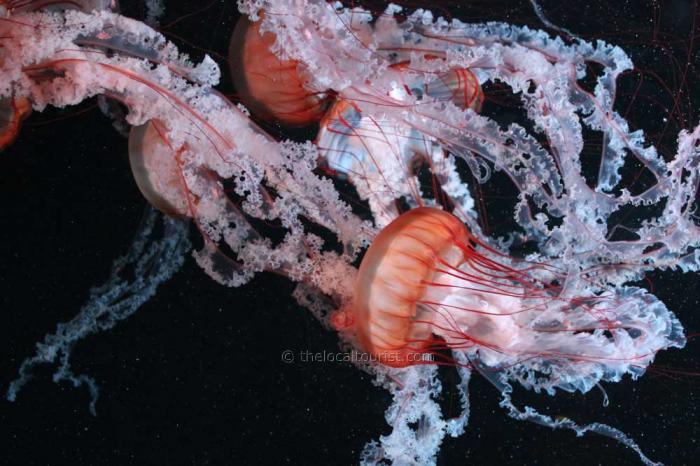 The Shedd Aquarium is one of the most popular museums in Chicago. Visitors can see aquatic and amphibian life from all over the world. There are 80 different habitats represented. There are also live shows featuring dolphins, penguins, and even Beluga whales.
See a Show
Chicago has a thriving theater scene, and one sure way to be entertained during those cold winter months is to take in a show.
From Broadway in Chicago to the renowned Goodman and Steppenwolf Theatres, to black box storefronts that dot the city's neighborhoods, there's a type of performance for every taste.
Check out this Chicago events calendar to find performances during your Chicago winter vacation.
Learn about Chicago's Past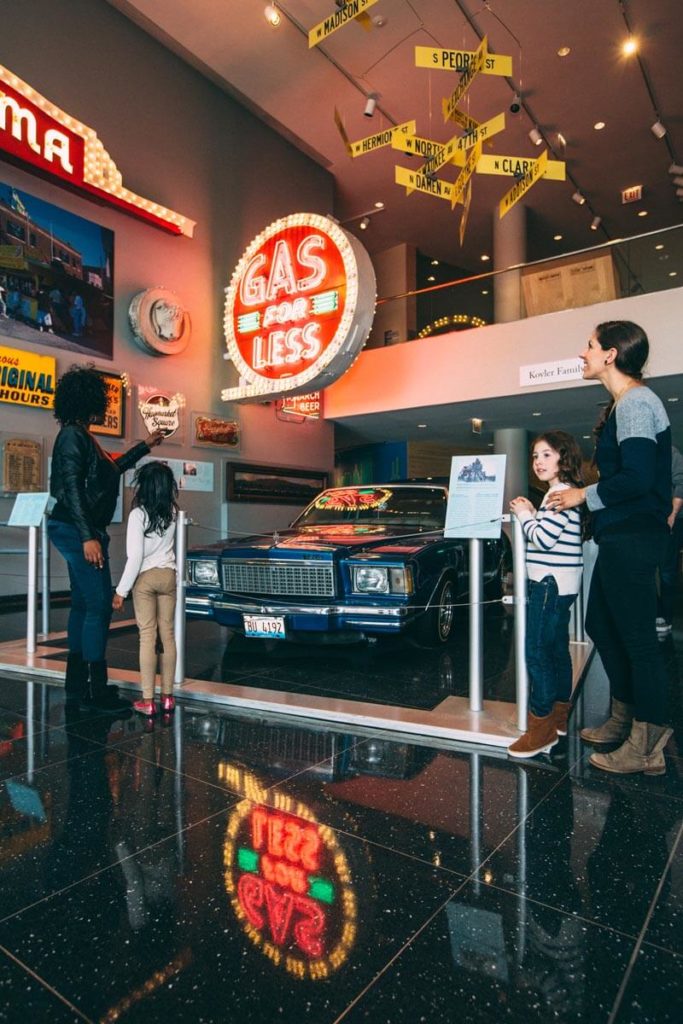 Chicago's past is CRAZY. I should know – I wrote a book about it.
One of the stories in Living Landmarks of Chicago is about the Chicago History Museum. Organized as the Chicago Historical Society in 1856, today the organization's collections include approximately 22 million specimens.
One of the Chicago History Museum's most beloved exhibits is Imagining Chicago: The Dioramas. They were unveiled in 1932 and they're still around.
Eat in an Igloo
City Winery on the Chicago Riverwalk started the igloo dining craze in Chicago, and since that first climate-controlled experience opened, several more restaurants and bars have joined in.
You can even dine outside on a rooftop. In Chicago. In winter. LondonHouse Chicago and I|O Godfrey, among others, will be offering the seasonal dining option.
Get your Garden Fix at Garfield Park Conservatory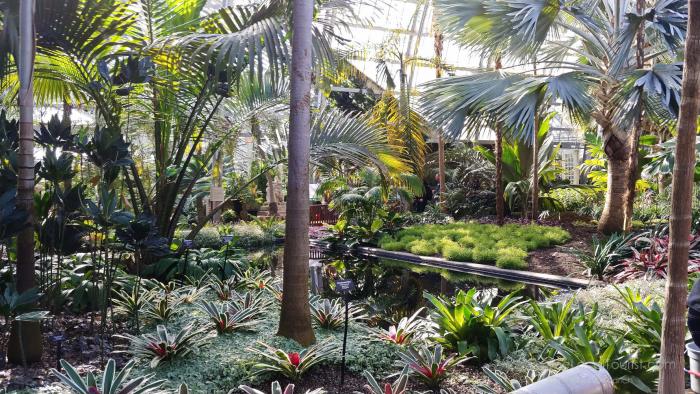 When you need a spot of green, head west to Garfield Park Conservatory. This wonderful place is open year-round and is considered one of the most beautiful botanical conservatories in the country.
Admission is free, and donations are encouraged.
Vroom Vroom at the Chicago Auto Show
The largest auto show in North America takes place every February at McCormick Place. The Chicago Auto Show has been celebrating the automobile since 1901.
For ten days, you can check out the newest vehicles. More than just a static showroom, there are also indoor test tracks so you can how those cars move.
Related: find hotels near McCormick Place
---
I hope it's obvious that there are tons of things to do in Chicago in the winter. Will you be planning a visit during this time of year?