Visiting the Museum of Science & Industry Chicago should be on every local and tourist's list of museums to see.
With over 35,000 artifacts and nearly 14 acres of exhibit space, the Museum of Science and Industry Chicago is one of the largest and most interactive science museums in the world.
Located in the Hyde Park neighborhood, it's a destination worth visiting again and again.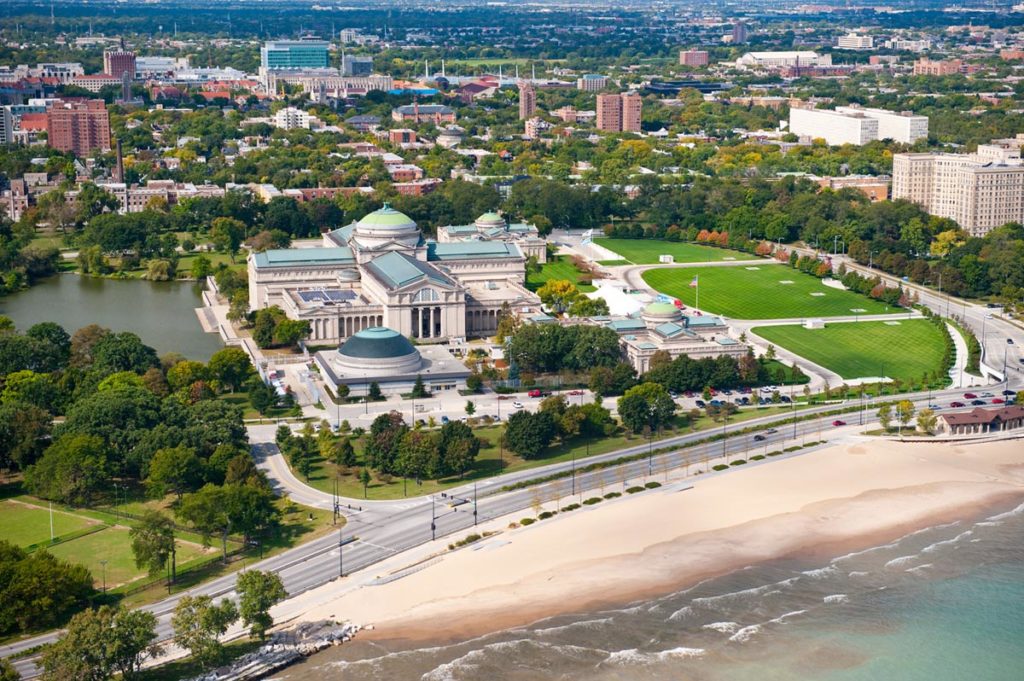 There are many reasons this museum is one of the most popular things to do in Chicago.
The Museum of Science and Industry also has a fascinating history, dating back to one of Chicago's most significant and defining events.
Visiting the Chicago Museum of Science and Industry
History of the Museum of Science and Industry
The story of the Chicago Museum of Science and Industry is told in the #1 best seller, Living Landmarks of Chicago: Tantalizing Tales and Skyscraper Stories – Bringing Chicago's Landmarks to Life
You'd never know it based on its prominence in the folklore of Chicago, but the 1893 World's Columbian Exposition was always meant to be temporary. Creating a permanent White City would have been prohibitively expensive and it never would have been done on time.
The only building with any durability was the Palace of Fine Arts.
Although it was covered with white staff (a mixture of plaster of Paris, glue, and hemp) like the rest of the buildings at the fair, exhibitors wanted this specific building to be made of brick to protect the five million dollars' worth of artwork displayed inside.
Lined with columns and topped with copper domes, its beauty prompted the illustrious artist Augustus Saint-Gaudens to declare: "There has been nothing equal to it since the Parthenon."
Conkey's complete guide to the World's Columbian Exposition was even more hyperbolic:
"Perhaps no building in the world, and certainly no one in the United States, surpasses it in beauty. Connoisseurs have pronounced it perfect in every detail, and have been lavish in the praise of the chief designer, Mr. C. B. Atwood. It is difficult to determine which is the most strikingly handsome and impressive— the exterior or interior."
Such a magnificent structure could not go to waste. Before the fair had even closed, the Columbian Museum of Chicago received a charter from the State of Illinois.
Collections and specimens accumulated and the museum, now called the Field Columbian Museum of Chicago in honor of its main benefactor, Marshall Field, opened on June 2, 1894.
In 1921, the Field Museum of Natural History, as it was by then called, moved to its own Beaux Arts beauty south of Grant Park.
The Palace of Fine Arts languished. It had been the only remaining building on the grounds since shortly after the fair closed, and during the Field Museum's tenure only patchwork repairs were made.
Once the Palace was empty it received so little attention it began to sink into the sandy marsh of Jackson Park and practically disintegrate. While some players wanted to demolish the building, preservationists prevailed.
Led by artist Lorado Taft, they raised five million dollars in bonds from Chicago citizens to fix up the place. Potential tenants included a trade school, and Lorado wanted to use it as an extension of the Art Institute of Chicago dedicated to sculpture.
However, when Julius Rosenwald offered a cool three mill to use the space as a science museum, and he was backed by the powerful Commercial Club of Chicago, it was kinda hard to say no (although some tried).
Julius Rosenwald, known as JR, was rich. Uber rich. Make-a-difference-in-the-world rich.
But he didn't start out that way.
He was born August 12, 1862, to Jewish German immigrants. His father, Samuel, arrived in Baltimore in 1854 and survived as a peddler.
Samuel and Augusta Hammerslough, JR's mother, married in 1857, and after several moves, the couple ended up in Springfield, Illinois, in a house across from Lincoln's. Samuel worked for his brothers-in-law's clothing house.
When JR was old enough, he apprenticed with his uncles in New York City. He eventually opened his own shop with his brother, and after a time the two moved to Chicago to start a clothing manufacturing company.
Things were going along fine when after a few years JR got the opportunity of a lifetime and bought a quarter-share of Sears, Roebuck and Co. With JR's business savvy and Richard Sears' copywriting talent, the company went gangbusters, doing fifty million in sales (about 1.4 billion today) by 1907.
The next year Sears resigned due to declining health, leaving the company in JR's capable hands.
While he was building wealth, JR was also building a family. In April 1890, he married Augusta "Gussie" Nusbaum, and the two had five children. It was on one family trip to Germany that JR's inspiration for a science museum struck.
His son William, who was about eight at the time, became absolutely enamored with the Deutsches Museum in Munich. The museum so enthralled him he wanted to go every day, and if he went missing, JR and Gussie would find him pushing and pulling levers and marveling at the coal mine.
This was a new and wondrous place that celebrated science and industry, and JR knew he needed to create something similar back home.
The idea percolated. In the 1920s, he presented the concept to the Commercial Club of Chicago. It took some convincing, but they caught on, especially when Julius offered to contribute a considerable amount of money.
With the bond sales and JR's contribution, which ended up being a few million higher than originally planned, the Rosenwald Industrial Museum was a done deal.
Except JR didn't want his name on the museum.
You might have noticed that JR didn't add his name to Sears, Roebuck and Co. That was his way. He even refused honorary college degrees because he hadn't earned them.
JR told the board that he didn't want his name on the museum, but they voted to add it while he was visiting President Coolidge and wired him the news.
Did they think he was joking? Everybody wants their name on a museum. Heck, that's the only reason Marshall gave any money to the Field Columbian Museum.
Not JR. He wired them back immediately and told the board to remove his name. It took three years and several requests, but they finally changed it to the Museum of Science and Industry founded by Julius Rosenwald.
The museum that JR envisioned would be more than an interactive demonstration of science, although that alone would certainly provide a new and different experience to people used to static displays.
Context—the context of these advancements within the construct of society, and how they affected society—would be just as important as showing off the latest whizbangitthingamajig, the inner workings of a lightbulb, the rotation of a gyroscope.
The first director of the museum, New York Times Science Writer Waldemar Kaempffert, described the approach as "interpretation of the machine."
In From cave-man to engineer; the Museum of Science and Industry founded by Julius Rosenwald, an institution to reveal the technical ascent of man, Waldemar listed several examples, including the Otis elevator's role in not simply doing away with stairs, but in enabling tall buildings; how the automobile changed the layout of cities and suburbs; and how the typewriter was more than a substitute for the pen—it was a revolution that put women to work.
"As the visitor emerges from the museum he will understand better the spectacle that greets his eyes—the electric lights, the automobiles, the airplanes overhead, the towering hotels and apartment houses, the hard roads, Jackson Park itself. Chicago will seem a part of the museum—the last great exhibit in the technical progress of man."
Julius Rosenwald's contribution totaled seven million dollars in cash and stock, but he didn't get to see the completion of the museum he founded. He died January 6, 1932, and the Museum of Science and Industry opened the following summer.
Fittingly for a science museum, the opening coincided with the 1933 Century of Progress World's Fair. They were still finishing up the restoration and the museum only used ten percent of the space, renting the rest to University of Chicago Hospitals for record storage.
One of the few exhibits was a reproduction of an Illinois coal mine. This immersive experience engaged all of the senses, inviting guests to descend the shaft in a cage elevator and see exactly what this subterranean occupation involved, including how it smelled.
During the Depression years, the museum continued to add exhibits that focused on the past. It lost money. Admission was free, and remained free until 1991, so the museum survived on donations.
The saving grace came with the hiring of Major Lenox R. Lohr, who served as director from 1940 until his death in 1968.
The former president of the National Broadcasting Corporation and general manager of the Century of Progress invited companies to sponsor exhibits. This move most assuredly would have dismayed Waldemar, but it worked.
GM, International Harvester, and other companies signed long-term agreements to develop and sponsor exhibits. By inviting commercial companies to showcase innovations, the museum thrived.
Ninety percent of the interactive exhibits focused on the present and the future and only ten percent on the past.
The Santa Fe Model Railroad, installed in 1943, delighted children and adults. In 1942, the museum hung the flags of Allied countries, beginning the annual "Christmas Around the World" tradition.
At a dinner in 1949, Major Lenox persuaded silent film star Colleen Moore to donate her Fairy Castle. Created by a hundred of Ms. Moore's Hollywood friends, she took it around the country between 1935 and 1939 to raise money for children's charities.
In 1952 the museum added a walk-through heart, and the next year secured a full-size submarine.
Captured by the U.S. Navy during World War II, the German U-boat was installed in the museum as a war memorial on September 25, 1954, and in 1989 became a National Historic Landmark.
And it is: it's the only Type IX-C U-boat in the world. Interestingly, Waldemar's 1933 treatise on the museum listed the desire for a full-sized submarine. Major Lenox Lohr, and the city of Chicago, who raised a quarter of a million dollars to move the boat, made it happen.
Museum of Science and Industry Today
If Julian Rosenwald could see his dream now… the Museum of Science and Industry has done more than fill the former Palace of Fine Arts. Its fourteen acres and four hundred thousand square feet are brimming with nearly thirty-five thousand artifacts.
Get your CityPASS with tickets to the Museum of Science and Industry Chicago
The Coal Mine; U505 Submarine; the Hatchery, where kids have been watching chicks break out of their shells since 1956; and the Fairy Castle continue to be popular, and they're joined by newer exhibits that cover a breadth of disciplines. The museum replaced the walk-in heart with a 3D model.
The Santa Fe Railroad became the Great Train Story, a minutely detailed model railroad depicting transportation from Chicago to Seattle. It's in the Transportation Gallery, which has everything from a model of the Wright Brothers plane to an actual Boeing 727.
The Hatchery is now part of Genetics: Decoding Life. Toymaker 3000 is a real working toy assembly line. Yesterday's Mainstreet goes back in time to early 20th Century Chicago, and the Henry Crown Space Center is out of this world.
Science Storms showcases the terrific and terrifying power of mother nature: visitors can step inside a 40-foot tornado, manipulate avalanches, and make lightning strike.
The Museum of Science and Industry makes science accessible and fun. With more than 190 million visitors since opening in 1933, the museum continues to be the most popular in Chicago.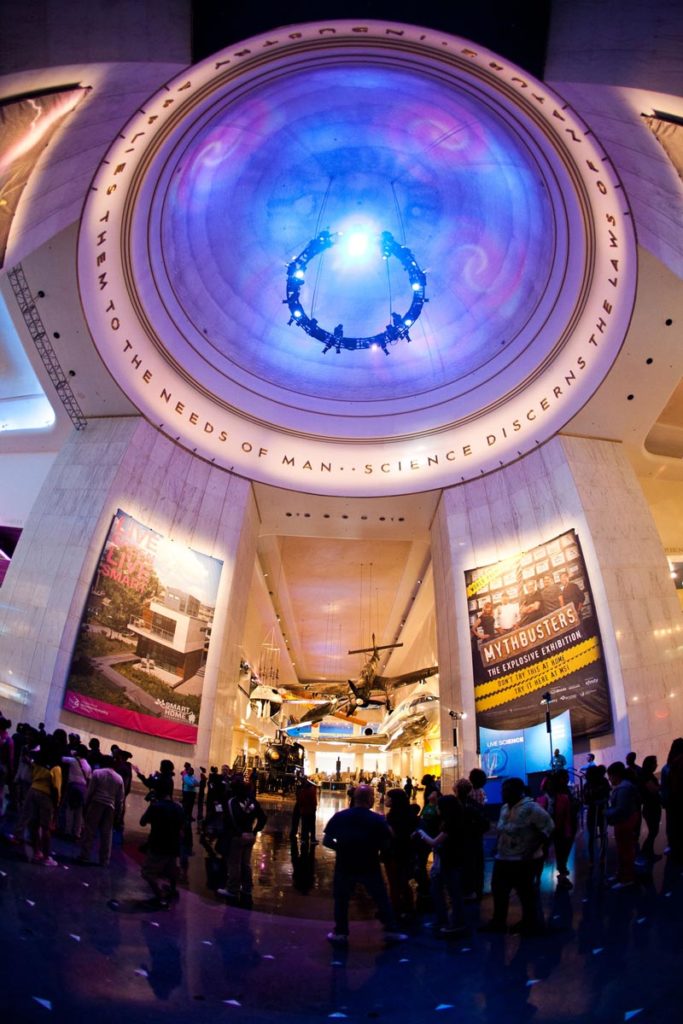 Museum of Science and Industry Exhibits
The Museum of Science and Industry's oldest exhibit is the Coal Mine. Opening with the museum, this exhibit shows visitors what it was like to descend into a coal mine.
The U-505 exhibit features the only World War II German submarine of its kind in the United States (read more about The Lone Wolf), and it's been at the museum since 1954.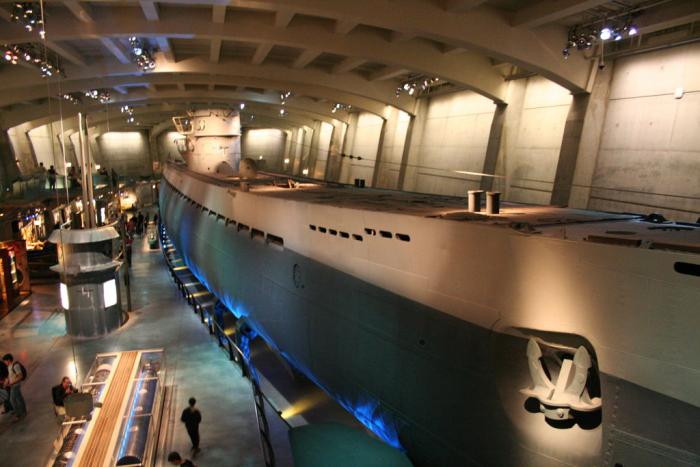 Other popular exhibits include The Great Train Story, a 3,500 square foot model train, and a Boeing 727 jet that was flown into Meigs Field.
There's also a chick hatchery, a Pioneer Zephyr, and a flight simulator for the P-51 Mustang, F-4 Phantom II, F-16 Fighting Falcon.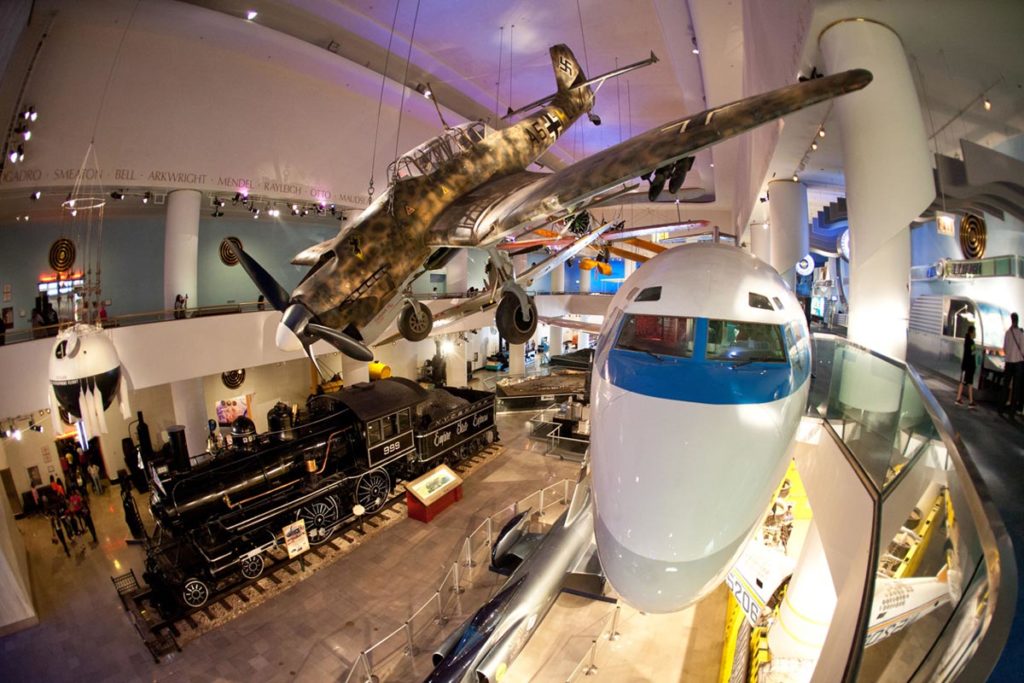 Yesterday's Mainstreet showcases a Chicago street from the 1920s, including a working ice cream parlor.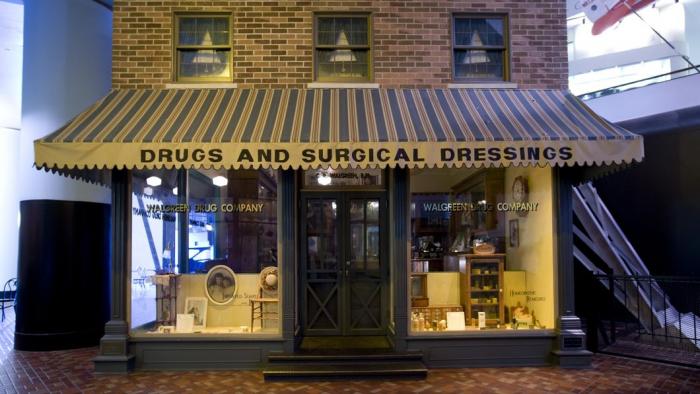 Science Storms is a cool two story exhibit that features a tornado that you can step into, a tsunami tank, and a Tesla coil.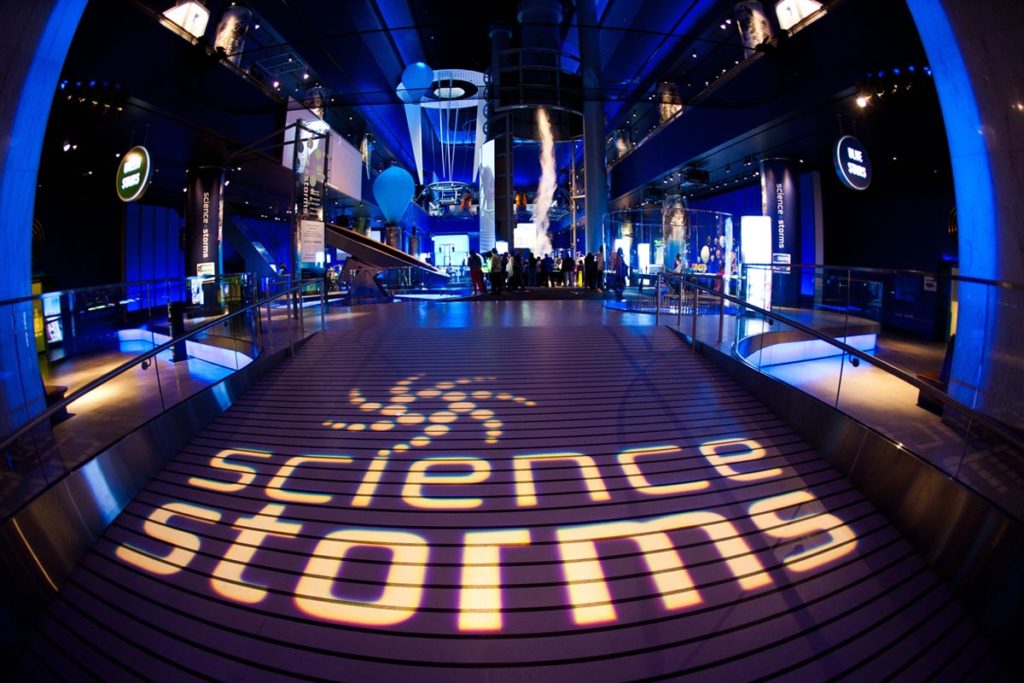 In addition to their ever-growing and improving permanent exhibits, the museum frequently hosts temporary exhibits.
Some of the most notable ones have included Body Worlds, which featured plastinated human specimens, and Leonardo da Vinci: Man, Inventor, Genius.
They also feature traveling exhibits that are focused on the science of popular fiction, such as Star Wars and Harry Potter. To see what's on exhibit now, visit their website.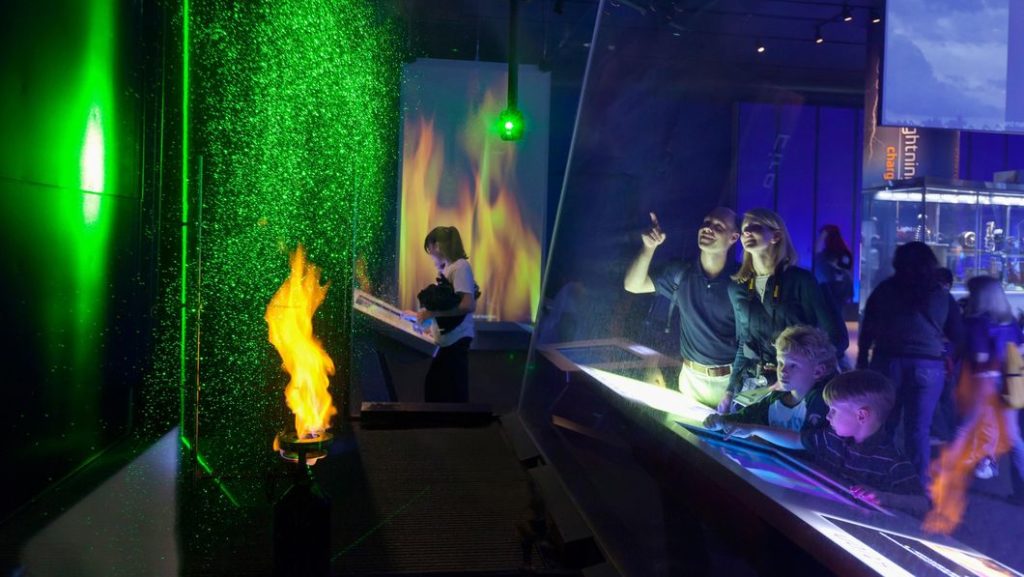 2023 Museum of Science and Industry Free Days
Admission during Museum of Science and Industry free days includes their classic exhibits, from the Great Train Story to the Baby Chick Hatchery.
These free admission days are a great time to take advantage of the many special exhibits.
Giant Dome Theater films, Fab Lab workshops, and Future Energy Chicago are $12 for adults and $9 for children 3 – 11.
Free days at Museum of Science and Industry 2023
The Museum of Science and Industry is free for Illinois residents with valid ID on the following dates in 2023.
January 9–11, 16–18, 23–25, 30–31
February
March 1, 6, 14
April 18, 22
May 4, 9, 17–18
June 1, 6–7
August 22, 28–29
September 5–6, 11–12, 15, 18–20, 26
October 4–5, 9, 16–17
November 1, 8
These free days for Illinois residents at the Museum of Science and Industry are a great deal. Ticket prices are $21.95 for adults and $12.95 for children ages 3 to 11.
Find a place to stay near the Museum of Science and Industry
Museum of Science and Industry Tickets
Can't make it on during the Museum of Science and Industry free days, or not an Illinois resident?
Chicago residents save $5 for adults and $3 for children (ages 3-11). Everyone saves $2 if they purchase their tickets online.
If you're not a Chicago or Illinois resident, you can get discounted admission to the Museum of Science & Industry and four other top attractions with CityPASS. Save at even more attractions (25+!) with the Go Chicago Card.
Find more ways to explore Chicago on a budget.
There are also free days at the Shedd Aquarium, Chicago Field Museum, and Adler Planetarium throughout the year.
The Museum of Science and Industry is located in the Hyde Park neighborhood of Chicago at 57th Street and Lake Shore Drive.
Museum of Science and Industry Parking
The Museum of Science and Industry has a convenient garage that opens right into the museum. Rates are $22.
You can also get discounted parking with Parkwhiz and Spothero.
---
The Museum of Science and Industry Chicago is a must-see destination for any local or visitor. If you plan on visiting, be sure to save this for later: