There are so many things to do in Chicago, it's hard to know where to start.
Chicago is a world-class city with world-class attractions. There are some of the best museums anywhere, and an art scene that rivals Paris and New York. You can see a show at hundreds of theaters throughout the city and suburbs.
Families will never be bored since there are tons of things to do with kids.
Music fans will love the number of options for seeing live shows, from arena concerts to smaller music venues to jazz and blues bars.
There are outdoor activities all year long, from ice skating in the winter to beaches and boat tours when it's warmer.
Speaking of tours, there are options for just about every interest. Food tours, walking tours, bus tours – Chicago has it all.
The whole city is just bursting with fun, so the question is never if there's anything to do, it's what to do in Chicago.
If you're looking for things to do in Chicago today, check out Your Chicago Guide's events calendar. Events are added daily, so there's always something new to add to your itinerary.
Take a gander at some of our favorites below, and start planning how you're going to enjoy this incredible, vibrant, exciting city. You'll find Chicago's most popular attractions, as well as some places that are off the beaten path.
Related: things to do in Chicago on a budget
Things To Do in Chicago
Chicago Attractions
We may be in the Second City, but Chicago attractions are second to none! We've got a tasty Chicago Riverwalk, two observatories, and the epic Lakefront Path, just to name a few.
Related: check out Chicago's most popular attractions
360 Chicago
Perched 94 stories above the Windy City, 360 Chicago provides commanding views of Lake Michigan and Chicago's towering skyscrapers.
You can also get a bird's eye view of the street below with Tilt. This moving lookout tilts away from the building, 1,000 feet up. 875 N Michigan Ave
Find tours & tickets to 360 Chicago
Chicago Riverwalk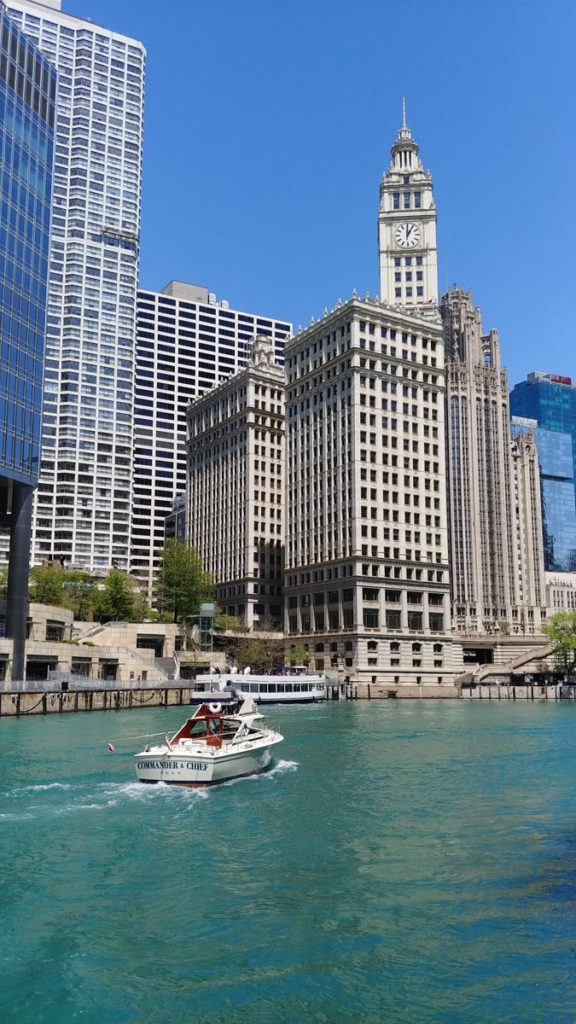 The Chicago Riverwalk is one of the city's must-visit summer destinations. Located on the south side of the Chicago River, in addition to renting boats and cycles there are also lots of great open-air restaurants.
Garfield Park Conservatory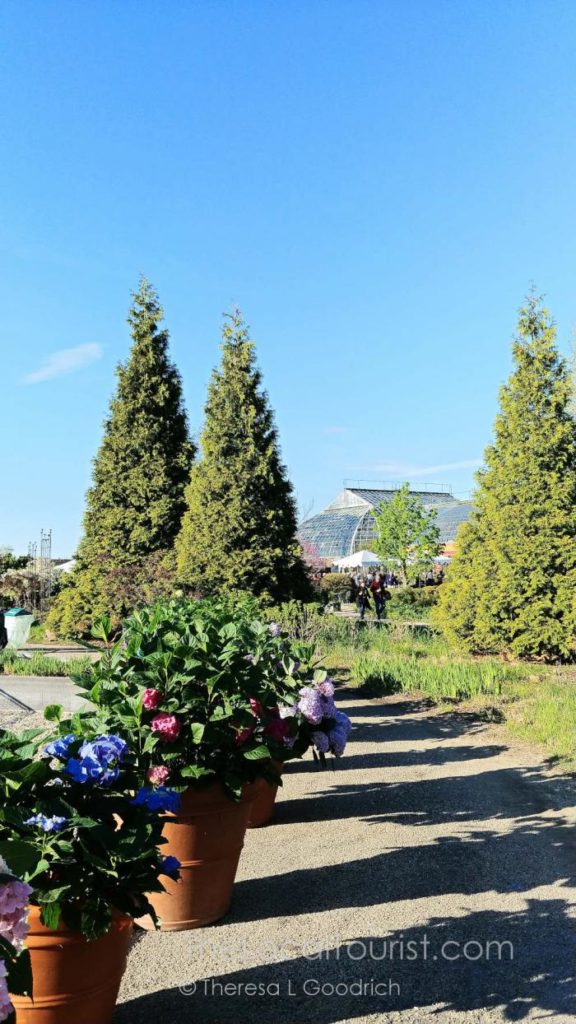 The Garfield Park Conservatory has showcased "landscape art under glass" for over 100 years on the West Side of Chicago. 300 N Central Park Ave
Lakefront Path
One of Chicago's true gems, the Lakefront Path is 28 miles along Lake Michigan. Whether you're riding, running, or walking, just being on the path feels like a mini-vacation.
Stop for a game of volleyball at North Avenue Beach or stroll after a great brunch at The Promontory.
Now matter how you enjoy it, there's no denying this path is one of the city's greatest assets.
Lincoln Park Zoo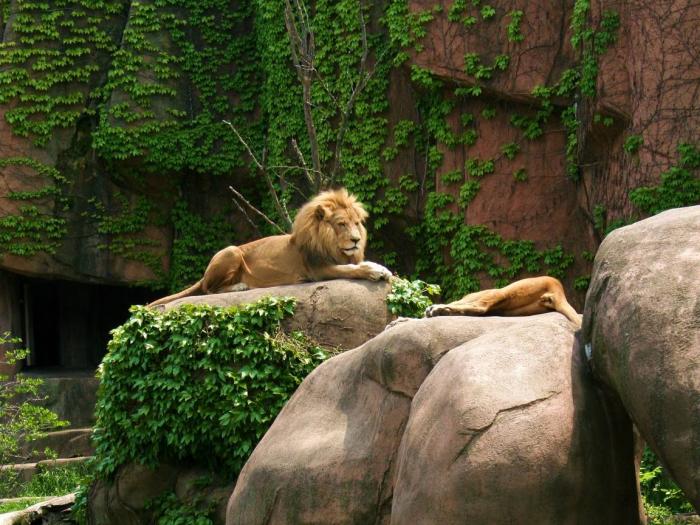 Lincoln Park Zoo is a free Chicago zoo that's open 365 days a year and features animals from every climate.Some of the most popular residents are the polar bears and the gorillas. 2200 N Cannon Dr
Get the goods with this guide to Lincoln Park Zoo
Navy Pier
Navy Pier is one of Chicago's most popular destinations for a multitude of reasons. Visitors can experience everything from fast food to fine dining, cover bands to Shakespeare, speedboats to serene sailing. 600 E Grand Ave
Discover Navy Pier Chicago attractions.
Skydeck Chicago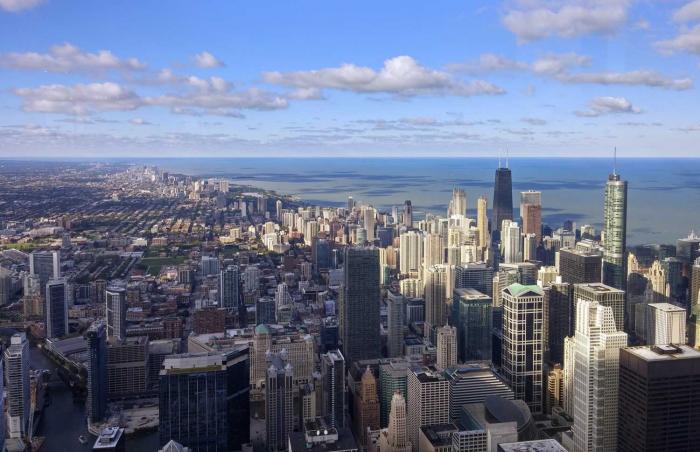 Go out on a ledge and take in some of the best views in the Midwest! You can see four states from the 103rd floor observation lounge of the Sears – ahem – Willis Tower. 233 S Wacker Dr.
Find tickets to Skydeck Chicago
---
Chicago Beaches
Chicago has 26 miles of lakefront along the banks of Lake Michigan, with several beaches that'll make you forget you're in the middle of the country. They're free and open to the public.
Some, like Montrose and Oak Street Beaches, have places to eat during the summer.
North Avenue Beach is known for its beach volleyball, and you can even rent paddleboards.
The beaches stretch from one end of the city to the other, and with the Lakefront Path connecting them all, you can explore several in one day. Or, just kick back, relax, and enjoy the sun and sand of the third coast.
---
Festivals in Chicago
Chicago loves festivals. Seriously LOVES festivals. Set up a stage and some tents and the city comes out to play. Some of the biggest free fests are:
Chicago Kids & Kites Festival
Chicago House Music Festival
Chicago Gospel Music Festival
Millennium Park Summer Film Series
Chicago Blues Festival
---
Famous Chicago Landmarks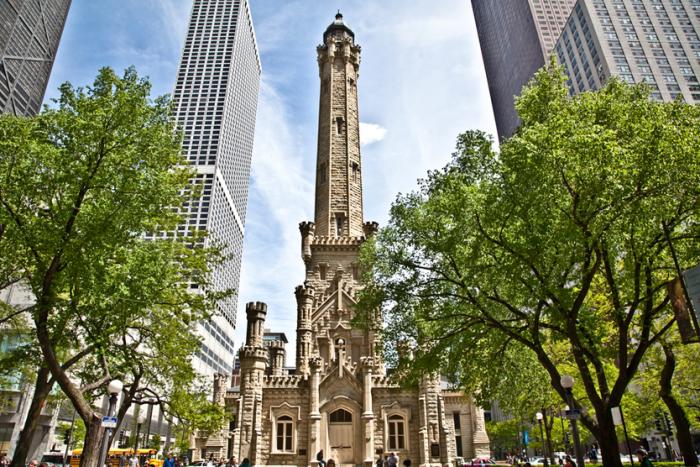 Chicago's the birthplace of the skyscraper and home to incredible architecture. These are some of the most recognized and historical landmarks in Chicago, and many of them are right on Michigan Avenue.
Buckingham Fountain
The Clarence F. Buckingham Memorial Fountain is a dazzling monument to a sister's love and an appropriately theatrical entrance to this great city. 301 S Columbus Dr
Get the story behind Buckingham Fountain
Chicago Cultural Center

The Chicago Cultural Center is one of the city's most popular resources and offers free programs throughout the year. Make sure to see the world's largest Tiffany dome. 78 E Washington St
Here's the inside scoop on the Chicago Cultural Center
Fine Arts Building
Across from Grant Park in the Chicago Landmark Historic Michigan Boulevard District, the Fine Arts Building is home to visual artists, musicians, performers, booking agents, yoga studios, dance instructors, voice coaches, architects, designers, and musical instrument makers.
Get an inside look every month on Second Fridays, when various studios open their doors to the public. 401 S Michigan Ave
Get the story on the Fine Arts Building and how it became a crucible of creativity.
875 North Michigan (Formerly the John Hancock Building)
Towering over the Magnificent Mile, the former John Hancock Center is one of the tallest buildings in the world and is an iconic symbol of Chicago's skyline.
Its trademark criss-cross exterior makes it easily recognized from miles around. Inside this towering skyscraper are shops, residences, restaurants, and an innovative observatory. 875 N Michigan Ave
Historic Water Tower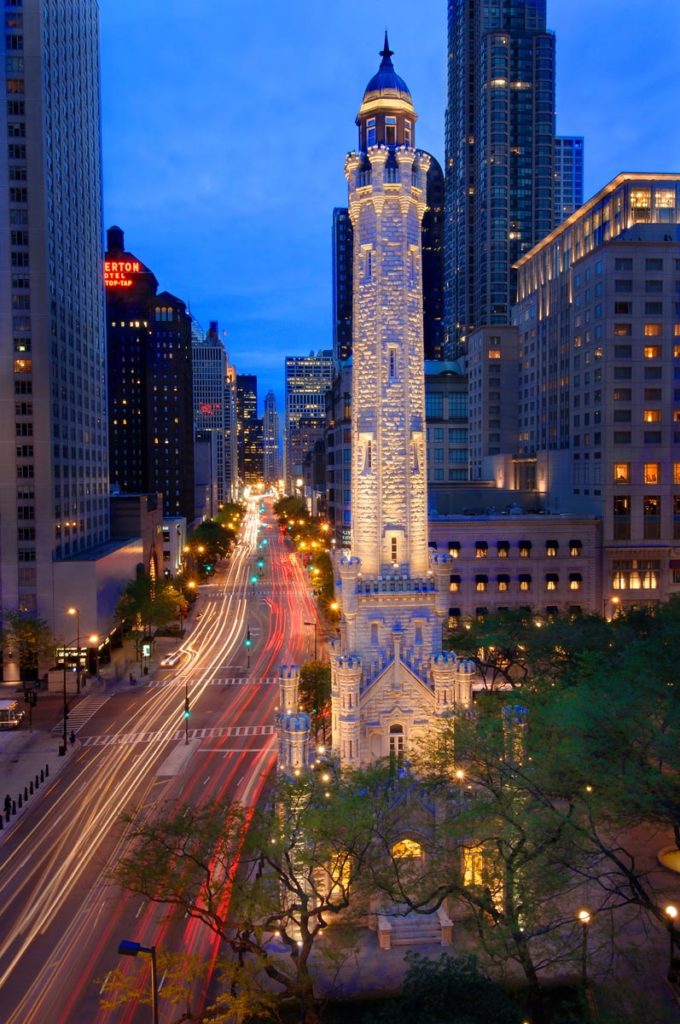 Just two years after the Water Tower was built the Great Chicago Fire raged through the city burning all of the wooden structures. Nearly every building was destroyed, but its stone construction meant the Water Tower was the only public building to escape.
Inside is the free City Gallery, a small museum that features the work of local photographers and artisits. 800 N Michigan Ave
Tribune Tower
With its flying buttresses and neo-Gothic architecture, the Tribune Tower is one of Chicago's most distinctive skyscrapers. Embedded around the base of the Tribune Tower are bits and pieces of the world's history. This "rock collection" comes from such significant places as Petra, the Berlin Wall, and the original tomb of Abraham Lincoln.
Some were obtained with permission; some were not. 435 N Michigan Ave
Willis Tower
Rising high above the Chicago skyline the Willis Tower is one of the city's most recognized landmarks. The skyscraper has 110 stories and over four and a half million square feet. If it were one story, it would spread out over 105 acres, or sixteen city blocks. 233 S Wacker Dr
Wrigley Building
The Wrigley Building is known for its clock tower and its gleaming white façade, which is made of glazed terra cotta. Situated across from the Tribune Tower, this skyscraper was the first major office building to break ground north of the Chicago River.
The Michigan Avenue Bridge wasn't even completed when they began construction in 1920. The gamble paid off, as did the installation of air conditioning, making this the first office building to offer that amenity. 400 – 410 N Michigan Ave
Live Music Venues in Chicago
Live music is not just something you do in Chicago; it's a way of life. There are hundreds of places to hear live music. This is the home of the blues, after all. But Chicago's passion goes beyond just one genre.
These are some of the best places for live music in Chicago:
Chicago Museums
Chicago is filled with incredible museums that are worth visiting multiple times by both locals and tourists. Browse the top Chicago museums below:
Adler Planetarium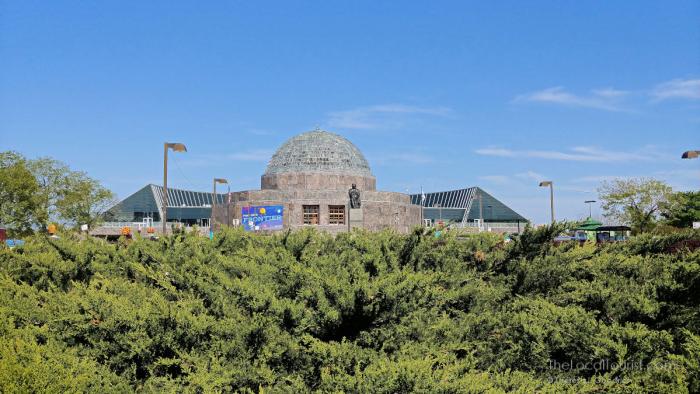 Visit the oldest planetarium in the U.S. This Chicago museum features three full-size theaters and several interactive exhibits.
Adler Planetarium also boasts an extensive collection of historical artifacts that reach back to medieval Europe and the Middle East. 1300 S Lake Shore Dr
Art Institute of Chicago
With its stately lions gracing its Michigan Avenue Entrance, the Art Institute of Chicago welcomes art fans from all over the world to see its extensive collections.
Exhibitions span all art genres and multiple centuries to bring a comprehensive experience to anyone who visits. 111 S Michigan Ave
Find tours and tickets to the Art Institute
Chicago History Museum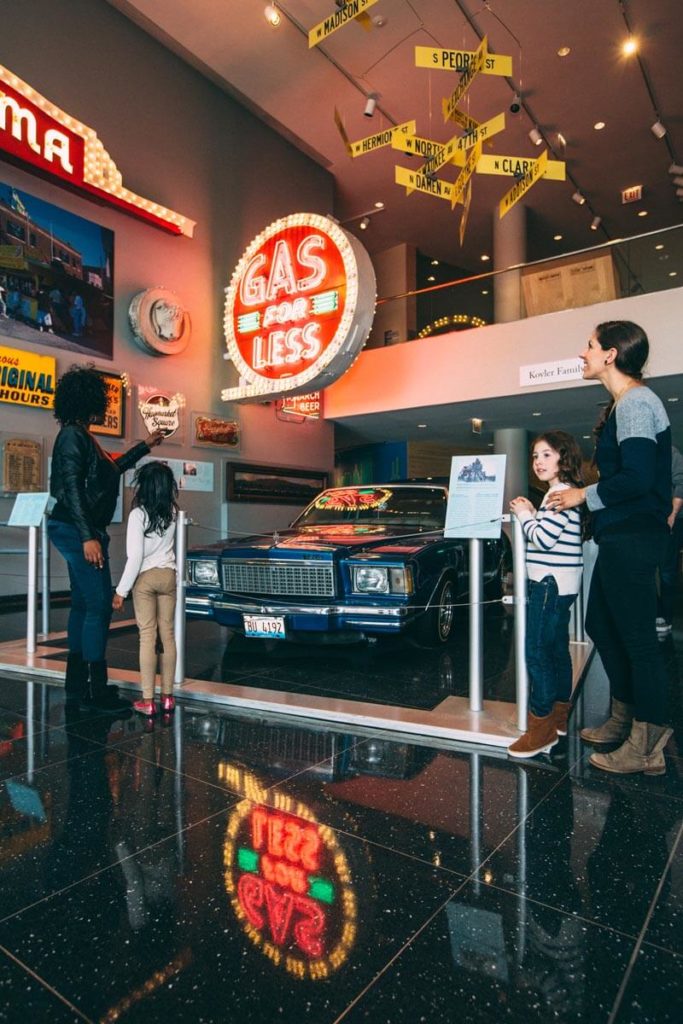 From stinky onion to a shoreline made of trash, Chicago's history is filled with stories. Find out what makes the city tick at this museum. 1601 N Clark St
Check out this Chicago History Museum guide, and get tickets.
Chicago Field Museum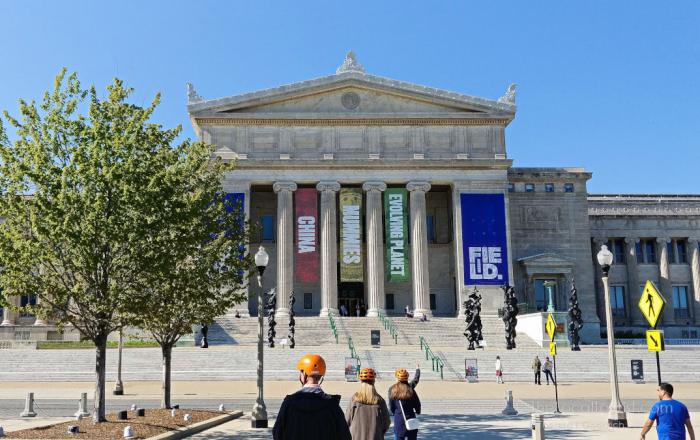 No trip to Chicago is complete without a visit to the Chicago Field Museum of Natural History. The museum tells the story of the lions of Tsavo and covers four billion years of history in its Evolving Planet exhibit.
The Grainger Hall of Gems is a must-see with items like a 3,400-year-old Egyptian garnet and the The King William III Diamond Stick Pin. 1400 S Lake Shore Dr
Get tickets to the Field Museum of Natural History
Museum of Contemporary Art
Most museums feature the works of artists who are long gone. The Museum of Contemporary Art highlights artists who are more contemporary. In addition to displays of innovative works, the museum also hosts several events and performances. 220 E Chicago Ave
Find more museums on the Magnificent Mile
Museum of Science & Industry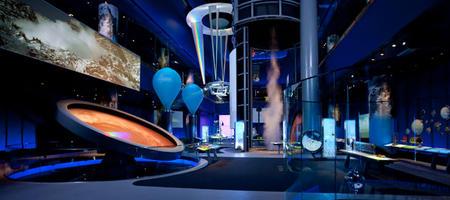 The only permanent building from the Columbian Exposition of 1893, the Museum of Science & Industry houses such diverse exhibits as a German U-Boat and an indoor tornado. 5700 S Lake Shore Dr
Get tickets to the Museum of Science & Industry
National Hellenic Museum
The National Hellenic Museum, located in Chicago's Greektown neighborhood, celebrates the cultural contributions of Greeks and Greek Americans.
It is the only institution of its kind that showcases the journey from ancient times to modern day. 333 S Halsted St
National Museum of Mexican Art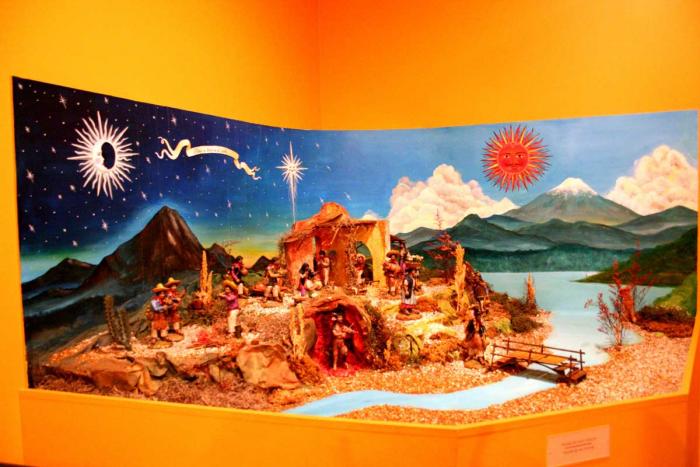 Located in the Pilsen neighborhood of Chicago, the National Museum of Mexican Art features Latino art. With over 7,000 objects it is one of Chicago'a major museums, and is the only one that offers free admission daily. 1852 W 19th St
Peggy Notebaert Nature Museum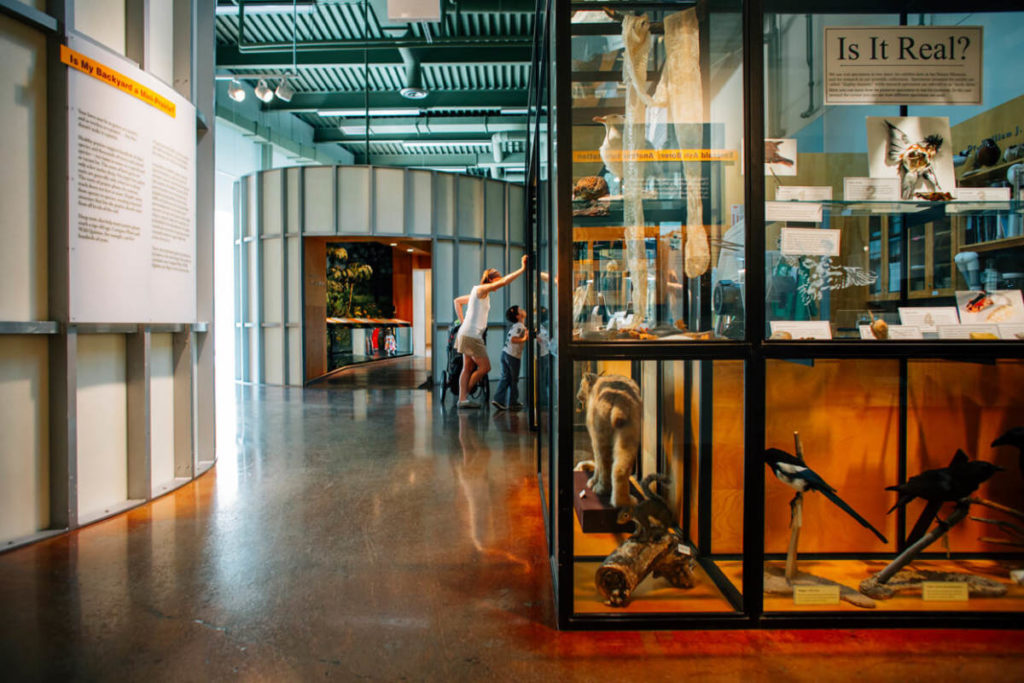 Nestled into a corner of Lincoln Park, the Peggy Notebaert Nature Museum brings nature and science to Chicago. With the most hands-on activities of any museum in the city it connects the urban community with the world that surrounds it. 2430 N Cannon Dr
Shedd Aquarium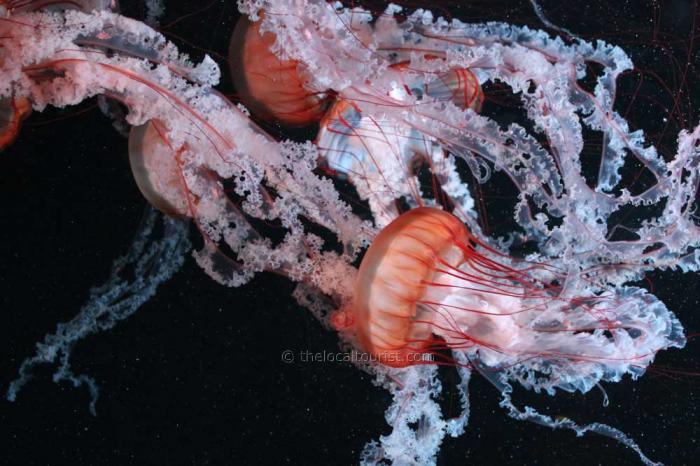 Not only can you see thousands of specimens of aquatic, mammalian, and reptilian life in the various tanks at the John G. Shedd Aquarium, you can also see them up close with the Beluga and Penguin Encounters and by being a Trainer for a Day. 1200 S Lake Shore Dr
Get tickets to the Shedd Aquarium
Are you planning on exploring multiple museums? Save money with the GoChicagoCard.
Parks in Chicago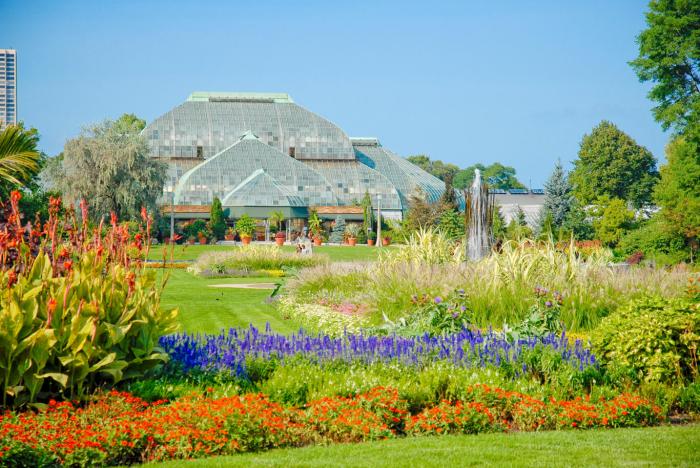 Chicago's motto, Urbs in horto, means city in a garden. These most popular parks bring that saying to life.
The 606 – rail trail from West Town to Humboldt Park
Garfield Park – home of the Garfield Park Conservatory
Grant Park – Chicago's front yard
Humboldt Park – Designed by Jens Jensen and home to Little Cubs Field
Jackson Park – south of the Museum of Science & Industry, its most popular feature is the Japanese garden
Lincoln Park – this huge park is home to the Lincoln Park Zoo and stretches all the way to Montrose Harbor
Millennium Park – Chicago's most popular attraction. Click here for everything you need to know about Millennium Park and check out our top summer tips
Washington Park – this South Side park was designed by Frederick Law Olmsted and Calvert Vaux
Theater in Chicago
With literally hundreds of theaters in Chicago, the city's theater scene is bustling. There are well-recognized theaters, like Victory Gardens Theater and Steppenwolf, as well as smaller storefront stages in every neighborhood that showcase the immense talent this city possesses.
The Chicago Theatre District is home to Broadway In Chicago and the famed Goodman Theatre and The Chicago Theatre.
Get thee to Navy Pier for Chicago Shakespeare Theatre, and the Magnificent Mile offers Broadway Playhouse and Lookingglass Theatre, just a block apart from each other.
The city also has a thriving comedy scene, the most famous of which is Second City, but there are improv and stand-up rooms throughout Chicago.
If you'd like discounted tickets to Chicago shows, check out Goldstar.
Chicago Tours
One of the best ways to explore Chicago is by taking a tour. You'll be led by an expert who has the inside scoop and you'll get to see the city in a new way, and from different perspectives.
Walking tours include exploring the Loop's skyscrapers, downtown deco buildings, and Tiffany windows and domes. There are pedway walking tours, and tours themed around art, history, food, and drink.
There's even a Chicago Crime and Pizza Walk! If you prefer to move a little bit faster, take one of the many bike tours. Chicago's one of the most bike-friendly cities in the country, and touring on two wheels is a fun way to explore.
Find Chicago walking tours
Chicago boat tours are extremely popular and often allow you to experience two of Chicago's favorite activities: eating and enjoying our waterways. You can take either a Lake Michigan tour, a Chicago River tour, or both.
Find Chicago boat tours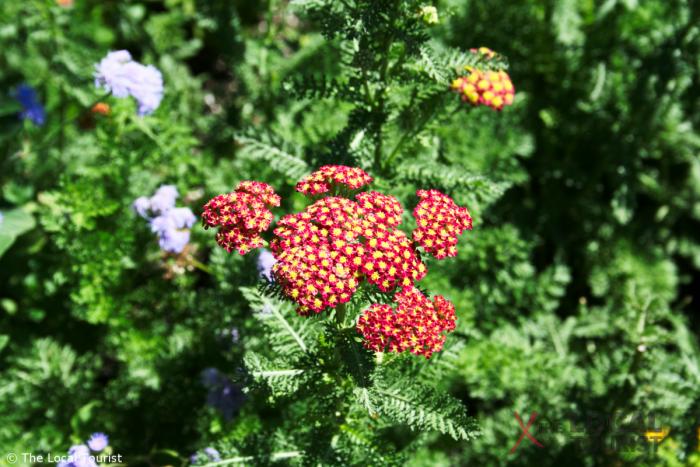 Bus tours can let you venture beyond downtown, to places like Jackson Park and Chicago Botanic Garden. If you take a hop-on/hop-off Trolley Tour, you can combine your tour and your transportation so you can see different parts of the city without worrying about parking or taking the CTA.
There are Segway tours, bike and beer tours, lots and lots of food tours, film tours, and, of course, architecture tours. Want to get above it all? Take a helicopter tour, where the sky is literally the limit. Truly, there's a tour for everyone.
Find and book Chicago sightseeing tours
Whew! That's a LOT of things to do in Chicago, and that's only a taste of all the activities. This page will be updated frequently, so be sure to bookmark it. You'll want to keep all these places to visit in Chicago handy.
You'll also want to check out our tips on how to save money in Chicago, so you can see and do even more.