The Field Museum is one of Chicago's most iconic attractions. With millions of specimens in its collections, from gems to mummies to dinosaurs, the museum is a destination for people from all over the world.
The museum's vast collection includes specimens and artifacts spanning the fields of anthropology, botany, geology, and zoology.
Visitors can explore the museum's many galleries and exhibits, which showcase everything from ancient Egyptian artifacts to the latest in scientific research. The Field Museum also offers a wide variety of educational programs for visitors of all ages, as well as special events and lectures.
Today this world-class institution is one of the most popular things to do in Chicago, but if it weren't for the tireless dedication of one man, it might never have come to be.
There may be affiliate links in this post, which means we may get a small commission. It's at no extra cost to you and helps keep TLT free. Everybody wins!
Table of Contents
History of the Field Museum
The story of the Chicago Field Museum is told in the #1 best seller, Living Landmarks of Chicago: Tantalizing Tales and Skyscraper Stories – Bringing Chicago's Landmarks to Life
Edward E. Ayer almost took "No" for an answer. If he had, there might not be a Field Museum of Natural History, and if there was a museum, it certainly wouldn't have the same name.
The idea for the museum began with a letter to the Chicago Tribune on May 31, 1890. It had only been three months since Congress selected Chicago to host the World's Fair, and only a month since the Senate concurred with that choice.
The Columbian Exposition would take place in less than three years, and while the city was madly preparing, Frederick Ward Putnam, the fair's future curator of anthropology, suggested that it would be a good idea to collect the exhibits when it was over.
As a Harvard professor of American Archaeology and Ethnology, he thought "such a collection would form a grand beginning for a permanent ethnological museum which would grow in importance and value as time goes on."
The Chicago Tribune called it an "interesting suggestion."
Others thought Mr. Putnam was on to something, and in November of 1891 he was invited to present the idea of a World's Fair memorial museum to the Commercial Club of Chicago.
Being a group of prominent money-makers, the men must have appreciated the efficiency of having the exhibits already in their city, exhibits that would normally require expensive expeditions.
The Inter Ocean thought it was a "Startling Suggestion." William T. Baker, one of the club's founders, thought it was a great opportunity.
It was a great opportunity, but before they could take advantage of it they had to create the fair in the first place. After a mad dash that defied all expectations, the White City opened on May 1, 1893.
That summer another letter to the Tribune suggested a museum, and newspapers and others rallied around it.
By August the fair was in full swing and the Exposition directors had a little room to breathe, so they created a three-man committee to ascertain public interest. The next month the State of Illinois incorporated "The Columbian Museum of Chicago."
The interest was there, but the problem was money. How were they going to pay for all of these exhibits? Commercial Club members were a philanthropic bunch, but a museum of the grandeur they envisioned would be prohibitively expensive.
Unless they could get someone to pony up a million bucks.
Edward began a steady promotional campaign and talked up the museum whenever and wherever he could—at his clubs, at social outings, at card games, you name it.
He was like a kid tugging on every rich man's shirt sleeve; if you were a "leading citizen" of Chicago and Edward got near you, you were going to hear about the museum.
George Pullman, Norman Ream, and James Ellsworth joined him in these efforts. Every person of wealth was fair game, but they all targeted one man in particular: Marshall Field.
The merchant prince was the richest man in Chicago, and while he wasn't stingy with his philanthropy, a million dollars was a hefty commitment even for him.
Edward approached him every chance he got, even during fishing trips. Every time, Marshall said no.
Or, as Edward recounted, he said "I don't know anything about a museum and I don't care to know anything about a museum. I'm not going to give you a million dollars."
Undaunted, Edward kept asking. And asking. And asking. So did his friends. About twenty of them met a month before the fair ended to figure out what they needed to do, and they realized that the Panic of 1893 meant they wouldn't be able to get the money they needed without a big donation from Marshall.
Without his help, the only option would be to raise what they could, buy what they could, get donations of exhibits where they could, and put it all aside until things improved.
They soon had a second meeting and Edward, who wasn't at the first, told them that plan was impossible. An astounding ninety percent of the natural history materials, such as feather-work and leatherwork, would essentially disintegrate if they weren't stored properly.
He basically said to forget the idea of a museum, but to go ahead and raise funds to at least buy some of the collections. Then they could divide what they had and give them to the University of Chicago, Northwestern, Beloit College, and University of Illinois.
Edward would give his own substantial "Indian" collection to the University of Chicago, or dispose of it in any other way that the members of the committee thought best.
It was discouraging, to say the least. But that night, James Ellsworth sent Edward a letter and asked if he'd see Marshall one more time.
The next morning, even though he didn't think it would do an "atom of good," Edward was waiting for Marshall when he arrived at his office. Frank Lockwood recounted the conversation in The Life of Edward E. Ayer:
"Marshall Field, I want to see you tonight after dinner."
"You can't do it," he replied, "I have a dinner party and shall be late."
"Well, the next night."
"No, I have another engagement then."
"Well, I have to see you right away; it is important."
"You want to talk to me about that darned museum," was his reply to this.
"Yes," I admitted.
"How much time do you want?"
I replied, "If I can't talk you out of a million dollars in fifteen minutes, I'm no good, nor you either."
He got up, closed the door, came back, and said, "Fire ahead."
Edward asked Marshall if he'd ever heard of a man named A. T. Stewart. Marshall hadn't. Well, there you go. A. T. Stewart was a greater merchant than even the merchant prince himself, Edward said, and nobody'd heard of him. He'd been forgotten in a mere twenty-five years.
Did Marshall want that to happen to him?
That had his attention. Edward went on (and on) to detail why the museum would be important, what it would mean to millions of people, how many children could receive an education unlike any they'd be exposed to without this museum.
After forty-five minutes, Marshall told him to get out.
Edward then pulled the personal favor card and asked his friend to meet him the next day at the fair to show him exactly what they were hoping to buy with his money.
Fortunately, George Pullman had already told Marshall that he'd been astounded when Edward had done the same with him. Edward, Marshall, and Marshall's brother Joe toured the fair and the next morning, Marshall gave him a million dollars.
Edward had done it.
With that money secured, George Pullman and Harlow Higinbotham each gave $100,000. Mrs. George Sturges gave $50,000. Edward donated his Native American collection, valued at $100,000.
Eleven hundred people donated their Exposition stock, which added another $1,500,000 to the kitty. Chicago was going to get its museum.
The fair closed October 30, 1893, and the museum committee gobbled up as many collections as it could purchase and stockpiled them in the one permanent building on the grounds.
Tiffany's gems and pre-Columbian gold ornaments, exhibits in the fields of agriculture, botany, forestry, anthropology, and mining, plus their display cases, all made their way into the Palace of Fine Arts, along with collections from Paraguay, Peru, Africa, the South Sea Islands, and British Columbia.
Putnam's grand beginning and Baker's great opportunity were quickly becoming a reality.
After installing heat in the built-for-summer building so they could work through the winter, by December there was a preliminary plan for the exhibits, which needed to be divided, counted, listed, and organized.
Hall by hall, the collections began to take on the semblance of a museum. In January 1894, the board of trustees elected Edward as the museum's president.
On May 21 they changed the name to the Field Columbian Museum, honoring their primary benefactor for his "Princely Munificence," and on June 2, the doors officially opened.
Edward Mason, President of the Chicago Historical Society, said the museum was "the monument of the Exposition, holding many of its best exhibits, housed in the most beautiful of all its beautiful edifices and perpetuating its central idea. It is the lasting flower of that glorious summer to which we look back as to an enchanted dream."
When Mr. Mason completed his remarks, President Ayer arose and with a raised gavel said: "I now declare the Field Columbian Museum open."
The dream was now a reality, but it would be a quarter of a century before the museum found its true home. Acquisitions grew rapidly and scientists traveled the globe to expand the museum's collections.
Free public lectures, like "Cats and the Lands they Inhabit" and "Structure and Natural History of Sharks" drew capacity crowds. Marshall's interest didn't wane after the initial legacy-assuring investment, and he continued to donate to the museum.
In November 1905, the institution became the Field Museum of Natural History and the scope was officially limited to the fields of anthropology, botany, geology, and zoology.
Two months later, Marshall died, bequeathing a whopping $8,000,000 to his namesake institution. Half of that was earmarked for a building, but they had to pick a site for it within six years.
That would prove to be an issue. They had a spot, right on the lake front in the middle of Grant Park. They'd picked it out years before Marshall's death.
It was such a great location that the people of Chicago actually voted to pay a special tax to fund building both the museum and the Crerar Library in that spot.
Everybody wanted it there. Even the Chicago Tribune was optimistic, declaring on December 29, 1907, that "before the year 1910 dawns the Field museum will rise from the level of the lake front to stand as a monument to the late merchant prince and as an example of the highest development of modern architecture."
Everybody wanted the museum in Grant Park, except for Aaron Montgomery Ward. He fought, and fought, and fought to keep the park forever open, clear and free.
Daniel Burnham didn't care what Ward wanted and he put the Field Museum smack in the middle of Grant Park in his 1909 Plan of Chicago.
Well, Ward didn't care what Burnham or the Commercial Club or the taxpayers of Chicago wanted. That park was supposed to be open. Legally, Ward was right, and case after case proved it.
By 1910, people were so frustrated that they proposed making an island a hundred feet east of shore. The Illinois House of Representatives said yes. Ward, and the courts, said no.
Well, now what were they going to do? In 1911 they resolved to just build the darn thing in Jackson Park, north of the existing location. They weren't thrilled about it, but they couldn't simply stay where they were because the old Palace of Fine Arts was falling apart and to repair it would be prohibitively expensive.
(The building would later be rescued and become the Museum of Science and Industry.)
In 1911, Illinois Central Railroad and the south park board came to an agreement that gave the people of Chicago the shoreline from the southern end of Grant Park to Jackson Park.
The Field Museum of Natural History could now be built at the end of 12th Street.
It didn't happen right away. There were several years of delays, but while they awaited confirmation museum officials ordered supplies, including the mountain of Georgia marble they'd need as well as steel. Construction finally began July 15, 1915.
What that really meant was they began installing derricks to drive the 9,921 piles they'd need for the foundation. They were building on made land and they'd have to shore it up several more feet before they could even begin constructing the building, which took more than a year.
In 1918 enough had been completed that they could begin gradually dismantling exhibits and readying them for the move. The museum in Jackson Park closed February 1920 and wouldn't reopen for over a year.
Moving the exhibits, which included the original windfall secured from the Columbian Exposition as well as nearly thirty years of acquisitions and expeditions, required precision and care.
There were hundreds of display cases and millions of specimens, from the miniscule to a pair of mammoth elephants. Somehow they completed the task in just thirty-four days, with total damage valued at only $1,250.
Then came the task of installing them in the new behemoth. Designed by Graham, Anderson, Probst and White, the building and its graceful caryatids were directly inspired by the Erechtheion, a Greek temple dedicated to Athena and Poseidon.
The sculptor of the robed women was Henry Hering, the same man who would carve the reliefs on the Michigan Avenue Bridge southern bridge towers.
On May 2, 1921, the Field Museum of Natural History opened, with thousands of Chicagoans lining up to enter.
Marshall wasn't the only Field to lend his money and support to the museum. His son, Marshall Field II, was a trustee. His grandson, Marshall Field III, gave around eight million to the museum between 1925 and 1949 and funded expeditions.
His great-grandson, Marshall Field IV, was also a trustee, as was his brother, Joseph. Stanley Field, Marshall's nephew, was President and chairman of the board for more than fifty years before his death in 1964.
Stanley had shepherded his uncle's namesake through the whole search for a permanent location, the construction and subsequent move, two world wars, and a Great Depression.
Under his tenure, the museum's name changed once again to the Chicago Natural History Museum to more closely identify as a public institution. Stanley announced it on the museum's fiftieth anniversary.
After he died, Trustees voted to honor the contributions of the family and change the name back to Field Museum of Natural History.
Chicago Field Museum Today
Ever since its grand beginning as a great opportunity, the Field Museum has been one of the premier museums in the world. Its dedication to the accumulation and dissemination of knowledge continues unabated.
Today the number of specimens and artifacts in its collection exceeds forty million, more than can be displayed in any person's lifetime.
The museum also continues to fund expeditions with more than 150 scientists and researchers traveling anywhere and everywhere to document life from billions of years ago to today.
Related: Find more things to do in Chicago
Chicago Field Museum Collections
The Field Museum hosts both permanent and traveling exhibitions covering our natural history. You can see exhibits on humanity's past, like a Pawnee Earth Lodge and one of the nation's largest mummy collections.
Explore the history of the earth with Evolving Planet, which covers four billion years. Marvel in the Grainger Hall of Gems, where you can see up close a 3,400 year old Egyptian garnet necklace and Tiffany & Co.'s Sun God Opal.
Of course, the most famous exhibit of the Field Museum is probably Sue the T. rex. This giant lady is the most complete T. rex skeleton ever discovered.
You'll also see what it was like to hunt a woolly mammoth and learn the story behind the man-eating lions of Tsavo.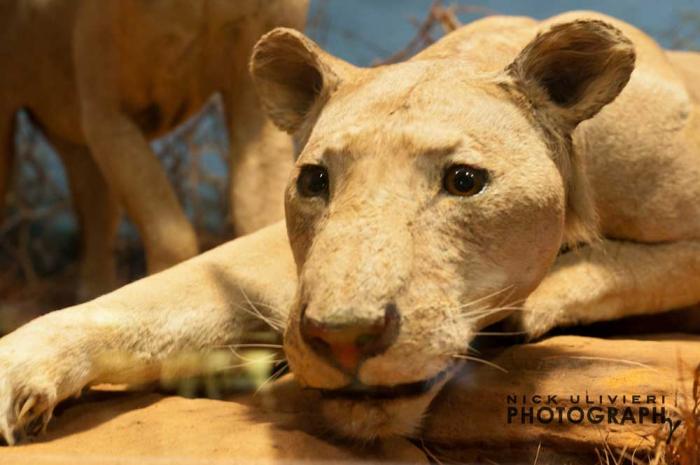 The Crown Family PlayLab is of special interest to families with children. In the Illinois Woodland kids can push buttons to see and hear the corresponding animals, and the whole family can put on costumes to play the parts.
The Pueblo introduces Southwest Native American culture, and there's corn they can "harvest". There's an art room where they can work on the project for the day, or just dig into the supplies and let the artist out.
What kid doesn't like banging on drums? And what adult wishes they had earplugs anytime a child gets near a percussive instrument? The Rhythm Section is, blessedly, an enclosed room.
The Dinosaur Field Station has nests to play in and fossils to search for, and in The Scientists' Lab they can measure and sort and magnify.
Each exhibit is tied into one in the museum. Families can start in the Playlab, and when they see the kachinas in the Ancient American exhibit, or wonder at Sue, they can point back to the activities.
While many of the museum's attractions are look-but-don't-touch, this section lets your kids play drums, dress up, and dig up a dinosaur bone.
Past traveling exhibitions have included everything from "Maharaja: The Splendor of India's Royal Courts" to Genghis Khan to "The Romance of Ants".
These exhibits are usually on display for several months. You can see what exhibitions are in town now and which will be arriving soon on their Exhibitions page.
Admission to Chicago Field Museum
The Field Museum is open daily from 9am to 5pm, with the last admission at 4pm. It's closed on Thanksgiving Day and Christmas Day.
Chicago Field Museum admission varies based on where you live (admission fees for adults).
Book a private tour of the Chicago Field Museum
Basic Admission

Chicago residents: $18
Illinois residents: $27
Out-of-state visitors: $29

Discovery Pass

Chicago residents: $26
Illinois residents: $34
Out-of-state visitors: $36

All-Access Pass

Chicago residents: $32
Illinois residents: $40
Out-of-state visitors: $42
Free Days at the Field Museum of Natural History
Visiting the Field Museum can be very expensive, especially if you're taking the kids. Basic admission for a family of four is more than $80.
Worth it? Yes, but if you can go for free, you can spend that money on some great deep dish pizza or take a segway tour.
Luckily for Illinois residents, there are several Chicago Field Museum free days.
Related: find things to do in Chicago in winter, Chicago in spring, and Chicago in summer
Chicago Field Museum Free Days 2023
The Field Museum offers free admission to Illinois residents on the following days in 2023:
January 24, 25, 30
February 1, 7, 8, 14, 15, 20, 21, 28
March 7, 14
April 22, 25
May 2, 9, 16, 23, 30
June 6, 13, 19
Free tickets are only available on-site and can't be reserved in advance. You'll need to show proof of Illinois residency.
Can't make it on those dates or not an Illinois resident? Get discounted admission to the Field Museum of Natural History and four other top attraction with CityPass.
Save at even more attractions with the Go Chicago Card: Over 30 Attractions on One Ticket Saves You up to 55%!
Find more ways to explore Chicago on a budget.
There are also free days at the Shedd Aquarium and Museum of Science and Industry.
This is also a good time to see more than the basic admission offers. With the Discovery Pass, you can choose one ticketed exhibition or one 3D movie: Adults: $16, Seniors and Students: $14, Children (3-11): $12.
The All-Access Pass gives you complete access to The Field Museum, including all ticketed exhibitions and one 3D movie. Adults: $23, Seniors and Students: $20, Children (3-11): $17.
You can order tickets online, and get complete information on the museum, exhibits, hours and pricing on their website.
Free Admission Requirements
To get your free admission, you'll need to provide proof of residency. According to the museum's website, no special coupon, ticket, or pass is required to enter during Free Admission Days.
Just present a current Illinois driver's license, state ID, or Chicago CityKey card at the ticket desk to establish proof of residency.
If you do not have an Illinois identification card, you may establish residency by showing a valid photo ID along with one of the following:
Illinois lease
Illinois library card
Illinois student ID with photo
Illinois utility bill
Illinois work ID or check stub
Places to stay near the Field Museum
Stay nearby at these hotels near the Field Museum of Natural History:
Hyatt Regency Chicago – With two towers and over 2,000 guest rooms, Hyatt Regency Chicago is the largest hotel in Chicago, and they know it: their second-floor bar is named BIG.
Palmer House Hilton – The Palmer House Hilton began as a love story and is now one of Chicago's most luxurious hotels and one of the grandest places to stay in the country. It's a great location, in the Loop and within walking distance to Grant Park.
Hilton Chicago – Lighten up your stay with an abundance of natural light and stunning views of Grant Park, Lake Michigan, and the urban landscape of downtown Chicago.
Blackstone Autograph Collection – Built in 1920, this historic Chicago hotel is on the National Register of Historic Places. Feel free to bring Fido when you stay here; the Blackstone is a pet friendly hotel and allows two dogs per room up to 75 pounds each.
Pendry Chicago – Located in the historic Carbide and Carbon Building, Pendry Chicago is a luxurious hotel near Grant Park that focuses on providing an exemplary experience.
Getting to the Chicago Field Museum
With its location in downtown Chicago, the Field Museum (1400 S Lake Shore Dr) is easily accessible via public transportation, whether you're taking a bus, a train, or Metra.
The Metra electric line runs under Grant Park with a nearby station. You can also get discounted parking:
Chicago Field Museum is located at 1400 S Lake Shore Dr, Chicago, IL
Save this for later!